Currently listening to: Dream Theater's
Pull Me Under
Dan's playing downstairs and Lyn's catching up on some rest. Here I am just browsing at a leisurely pace. Downtime, ya know. We've been getting a huge load of calls all week with no time to blog or browse - I do take a sneek peek at hi-fi from between calls though. All of our breaks have been cut short due to the high call volume. So when they give the green signal to take 10 minutes off, I go straight downstairs and then it's munchmunchmunch gobblegobblegobble gulpgulpgulpgulpgulpgulp. Can't complain though, the pay's good and I just hope they keep us (international agents) for at least a year. I can commit to doing this for year. That's not too bad, right? I have bills to pay off and once that's done we can save up a bit.
I was supposed to do the lesson plan for my Japanese class but I guess I can do that tomorrow. I think they all grew a grey watching me procrastinate, LOL (little Incubus reference there, sorry).
Dan took his first trip to the dentist last Saturday (10/29/05). We need to switch his toothpaste and brush his teeth more thorughly, lest he get early tooth decay the dentist warns. Too bad I didn't bring my camera along. He had some flouride treatment to prevent his teeth from getting caivities. The doctor seems like the
mataray
type
.
She was kinda stern when warning us about the dangers of taking a bottle to bed. Doctor says there's a small caivty starting in his one of his molars so we should brush it really well. Easier said than done. Sobrang likot ni Dan kaya (damn you cofibean, you're corrupting my grammar). I thought as long as the nipple isn't soaked in his mouth all night, it would be no big deal. Turns out he shouldn't have milk in his mouth at all during the night. Well, what can we do? He cries in the middle of the night when he's hungry. I could try giving him just water but he can tell the difference even if he's asleep.
Oh, and we went trick-or-treating with one of our students and his mom yesterday: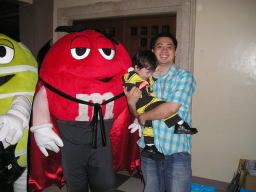 He sure likes Slim Shady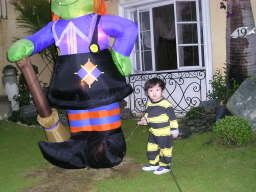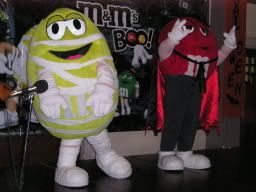 you just got served, fool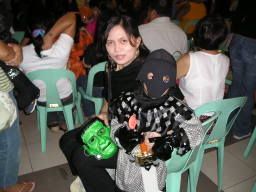 Lyn and Andro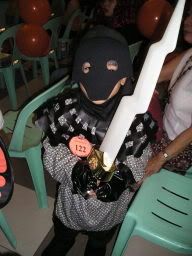 Andro, our student